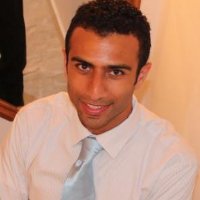 Hello, you have reached my homepage! I plan to work on website more, but for now, below is a bit about me.
I was born in Jordan in May of 1987 to awesome parents and raised with my five siblings, all of whom I respect. I lived in Jordan, Toronto, Michigan, and San Francisco. My primary academic interests are around Machine Learning and Computer Vision.
Current
I am currently working at
Google Research
, at the Video Understanding group, which is part of the
Machine Perception organization
. Our goal is to develop Machine Learning models that understand videos in a few domains, including: Recognition and Detection, Video Recommendation (using the contents of the video), Video Summarization, Spam Detection, and many more.
Education
Masters of Science and Engineering, Computer Science, University of Michigan. Supervisor: Honglak Lee. Did research on Medical Imaging. Graduate Student Instructor for undergraduate Intro to Machine Learning course (some notes).
SCPD (i.e. Non-degree option), Computer Science, Stanford. Focused on Machine Learning, Computer Vision, and Mining Massive Datasets.
Bachelors of Applied Science, Electrical and Computer Engineering, University of Toronto. Graduated with honors. Senior project was an Enteprise Search Engine, demoed at IEEE-SDC 2010
Selected Publications
Sami Abu-El-Haija, Nisarg Kothari, Joonseok Lee, Paul Natsev, George Toderici, Balakrishnan Varadarajan, Sudheendra Vijayanarasimhan, YouTube-8M: A Large-Scale Video Classification Benchmark · paper · website
Vignesh Ramanathan, Jonathan Huang, Sami Abu-El-Haija, Alexander Gorban, Kevin Murphy, Li Fei-Fei, Detecting events and key actors in multi-person videos, Computer Vision and Pattern Recognition (CVPR) 2016 - oral · paper · website
Bertrand Schneider, Sami Abu-El-Haija, Jim Reesman, Roy Pea, Toward Collaboration Sensing: Applying Network Analysis Techniques to Collaborative Eye-tracking Data, Learning Analytics and Knowledge (LAK) 2013 - best paper award · paper
Selected Patents
(with Google Research) 14 authors including Sami Abu-El-Haija, Selecting and Presenting Representative Frames for Video Previews · link
(with Ooyala Inc.) Zhichen Xu, Sami Abu-El-Haija, Lei Huang, Nimrod Hoofien, Automatically Recommending Content · link
(with Altera Inc.) Jason Govig and Sami Abu-El-Haija, Reporting Status of Timing Exceptions · link